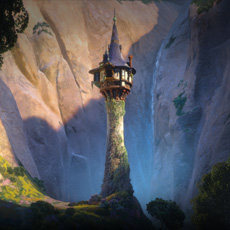 Need something to put a smile back on your face as barbeques, pool parties, and lazy beach days wind down? Summer fun may be coming to an end, but there's much to look forward to this fall. As previewed at San Diego Comic-Con, autumn's most irresistible features just might be the films Walt Disney Pictures has lined up for the year-end homestretch. Prepare for some pixie-dust tricks and big-screen treats, because Disney magic strikes again!
Speaking of homestretch, the spectacular, against-all-odds journey of "
Secretariat
" gallops into theaters – and hearts – October 8. Diane Lane portrays Penny Chenery, a housewife and mother who takes the reins of her father's Virginia-based Meadow Stables in the early 1970s – despite her lack of horse-racing knowledge. Thanks to the help of veteran horse trainer Lucien Laurin (played by John Malkovich), Chenery navigates the male-dominated sport and produces the first U.S. Triple Crown winner in 25 years.
The film was inspired by an incredible true story and suggested by William Nack's book "Secretariat: The Making of a Champion." Here's a fun fact: Keep an eye out for the real Penny Chenery, now 87 years young ... she appears in one of the scenes as an extra and was an important resource while shooting the movie.
On November 24, let down your hair as the enchantment continues with "
Tangled
," the hilarious, 3D-animated feature that puts a modern twist on the classic tale of Rapunzel – and marks Walt Disney Pictures' 50th full-length animated feature. Zachary Levi provides the voice of Flynn Rider, the kingdom's most notorious (and charismatic) bandit, who hides out in Rapunzel's mysterious tower. Mandy Moore voices the fetching and feisty teen who takes Flynn hostage in a desperate attempt to escape her tower-bound existence. She ultimately strikes a deal with the charming thief, and the two set off on a daring, action-packed adventure ... with 70 feet of magical golden hair in tow.
Directed by Byron Howard and 14-year animation veteran Nathan Greno (both of "Bolt" fame), the film features new songs and a score by eight-time Oscar®-winning composer Alan Menken ("The Little Mermaid," "Beauty and the Beast," "Aladdin," "Pocahontas," "Enchanted"), with lyrics written by Glenn Slater (2008 Tony® and Grammy®-nominee for "The Little Mermaid"). The all-star voice cast includes Ron Perlman, Jeffrey Tambor, Donna Murphy, and Brad Garrett – with talent like that, good hair days are guaranteed!
Hold off on those visions of sugarplums because the 3D, high-tech adventure "
TRON: Legacy
" hits theaters December 17. Fans may already be familiar with "TRON," but the story picks up 20 years later when Sam Flynn (Garrett Hedlund) is haunted by the mysterious disappearance of his father Kevin (Jeff Bridges), formerly the world's leading video game developer. When Sam is inadvertently pulled into the cyber universe where Kevin's been trapped for 20 years, father and son must escape a ruthless villain determined to keep them captive in a digital realm that's become far more advanced and dangerous than anything Kevin ever created.
In a visually stunning virtual world unlike anything seen before on the big screen, both Jeff Bridges and Bruce Boxleitner (Alan Bradley/Tron) reprise their original "TRON" roles and are joined by Olivia Wilde (Quorra), Michael Sheen (Castor), James Frain (Jarvis), and Beau Garrett (Siren Jem). Directed by Joseph Kosinski and produced by Steven Lisberger (who co-wrote and directed the original 1982 "TRON"), the film's futuristic score was written by the Grammy Award-winning electronic music duo Daft Punk.
One of the most highly anticipated films of the year, "TRON: Legacy" is filled with some pretty impressive firsts. It's the first 3D movie to integrate a character with a fully digital head and body based upon an existing actor, which enabled filmmakers to create the younger version of Jeff Bridges' character. In addition, some of the technological breakthroughs include extensive use of self-illuminated costumes, creating both molds and costumes via digital sculpture technology, and shooting the movie with 35mm lenses and full 35mm chip cameras.
Mark your calendars for Disney's "
Secretariat
," "
Tangled
," and "
TRON: Legacy
" ... three films sure to transport you into fantastical worlds far from the holiday rush!
ºo

º

Marcio Disney Family Sites Network
º
o
º

Disney's Dream Makers
Disney Picture of the Day
Vinylmation of the Day
Disney Tales [5 Weekly tales]
The Disney History
Marcio Disney Blog
Disney Pin of the Day
Marcio Disney Digital Media