Bruce, 48, San Jose, CA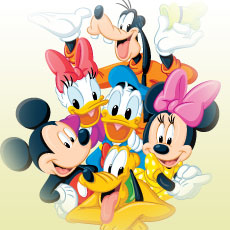 My parents first took the four of us kids to Disneyland about 35 years ago. We'd arrive almost an hour before the Park opened and wait with excited anticipation as we were usually first in line those days.
The doors would open and we'd scamper in. First thing we'd hear would be the familiar low voice of the conductor, "Your attention please ... the Disneyland Limited is now approaching Main Street Station." Proceeding through the tunnel always made us smile and that first look at Main Street was always incredible – the cleanliness, architecture, and lights were magical. We visited the Penny Arcade and played the old Soccer Game, which was actually there until a few years ago. We even watched all of the old silent movies for a penny!
Then we'd wait behind the rope until a recording of the late, great Walt Disney himself announced, "Disneyland is your land. To all who come to this happy place ... welcome." We would walk fast and quickly went on all of the rides over and over again. It was incredible. We stayed until midnight and were barely able to walk to the shuttles that drove us to where our car was parked.
My wife and I have been taking our kids to Disneyland since they were three years old. A few years ago, I was sitting next to my then 13-year-old daughter on a bench in New Orleans Square when she admitted that the 'magic' wasn't the same as it had been when she was younger. I told her that even though I understood, I felt there was always MAGIC in Disneyland ... even after 47 years! The memories that our family has shared at the "Happiest Place on Earth" are magical and will remain in our hearts always.