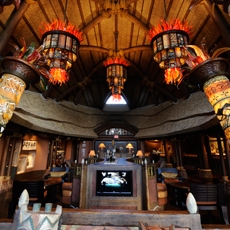 For those with an insatiable sense of wanderlust,
Disney Vacation Club
®
offers Members an incredible roster of hot spots to explore. And if a love for
Theme Parks
rivals your adventuresome side, then you're in luck. Disney Imagineer Jim Durham sat down with the Insider to discuss some of the newest Resorts – and how unforgettable vacation experiences are created by mixing some of the world's most amazing Resort destinations with the magic of Disney.
Disney Vacation Club features numerous locations, but
Disney's Animal Kingdom Villas
' Kidani Village,
Bay Lake Tower
at Disney's Contemporary Resort, and the Treehouse Villas at
Disney's Saratoga Springs Resort & Spa
are all located at
Walt Disney World Resort
®
for unique getaways close to all your favorite Theme Park thrills. Jim mentions what goes into the planning phases. "
First we select a theme that'll provide an immersive Guest experience. When we're building near an existing Disney hotel, the theme is already in place. So it's important for us to create an innovative environment that complements the Resort. If it's a freestanding area, then we have a blank canvas to develop a brand-new story
."
The African-inspired architecture of
Kidani Village
reflects the vision of Disney's Animal Kingdom Lodge. Guests can view animals in a savanna-style habitat from walls of continuous windows and a large deck area. Again, it's the attention to detail, including African tribal symbols and authentic African art, that sets this popular Resort apart. Imagineers also added an interactive outdoor water play space, complete with a slide, pool, and wet play area.
The Treehouse Villas at Disney's Saratoga Springs Resort & Spa are the perfect back-to-nature hideaways. There's access to shopping, restaurants, waterways, golf courses, and all the amenities of a full resort, but the environment is all about nature.
Guests might not notice all the eco-friendly choices that went into rebuilding the Treehouse Villas. As Jim describes, "
We were sensitive to the wetlands and didn't want to disturb nature. Each of the 60 units was prefabricated offsite, then lifted over the trees and 'dropped' into place with cranes – this allowed us to rebuild in a very difficult environment. But the best thing is that we were able to return approximately 70% of the land back to nature
." Replenishable materials were used, recycling was key, and more energy-efficient systems were installed.
Aside from addressing environmental issues, the improvements made the interior living space feel more open and spacious. "
We knew there was nostalgic value to those that have visited Walt Disney World for 30-plus years, which is why we kept the exterior designs close to the originals. Guests who stayed here as kids are returning with their own children and grandchildren
," Jim continues.
Near Magic Kingdom Park,
Bay Lake Tower
boasts modern architecture blended with visual cues that reflect Disney's Contemporary Resort. "The team drew ideas from the
Contemporary
, which is an important landmark in Walt Disney World history. It's about what you do with the physical design, accommodations, and details within the space that make it an extension of the story."
Jim explains. "
Even the artwork is filled with clues. There's a mural behind the Top of the World Lounge bar that was printed from a monorail drawing by Imagineer John Hench – it was one of his original concepts for Walt Disney World
." Other hints of the Contemporary Resort Guests will find at Bay Lake Tower include the color palette, an emphasis on horizontal lines, an iconic element perched atop the building in a manner similar to that of the California Grill at the Contemporary, and the fact that it stands 15 stories high, making it Disney Vacation Club's first mid-rise destination. Having clear views into the Magic Kingdom – especially when watching the fireworks display – is a big hit with Guests.
According to Jim, learning what's behind details like these is part of the fun of a Disney Vacation Club stay. "
Discovery is a great extension of the creative process, and it invites people to get involved. Cast Members can provide info or Guests can search for hidden Mickeys in carpet patterns, artwork, furniture, and even the architecture – everything's an extension of the theme. From a design standpoint, it's intriguing to know there's meaning behind every creative decision that's made
." And when
Aulani
, Disney Vacation Club Villas in Ko Olina, Hawai'i, opens later this year, Guests can delve into Hawaiian art, culture, and customs for clues while enjoying a premiere tropical paradise.
When asked why he loves his job, Jim doesn't hesitate. "
The best compliment is sitting in the lobby of a new Resort and watching the Guests' faces as they walk in – without saying a word, they're thinking 'wow!' They realize they're in a unique environment and have just escaped from their daily lives. We connect emotionally with our Guests – sometimes in ways we don't even understand
."
Don't wait to live your dream ... check out Disney Vacation Club destinations and start packing your bags!