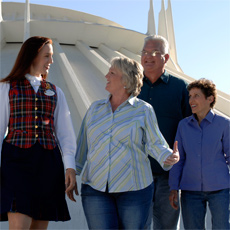 What's another name for "Guest jockey," mind reader, event planner, storyteller, and camp counselor? A VIP Tour Guide! Dean Baladad, Senior Tour Guide at
Disneyland
, is the latest in a long line of VIP Guides that began with Walt Disney in 1951. That's right! Walt was the very first Tour Guide, and personally led heads of state, business leaders, and celebrity Guests throughout the Park while it was being built.
Sixty years later, Disney's
VIP Tour
Guides continue to deliver magical moments to Disneyland visitors. We sat down with Dean and asked him to share some of his most memorable experiences.
After five years working in the Parade department as a Cast Member dancer and then as a Disney store clerk, Dean recognized an opportunity to join the department. "I wanted to share with others how special Disneyland is – the fun, magic, history, and heritage ... and especially remembering Walt Disney."
For 15 years Dean has been making VIPs' every wish come true – his enthusiasm for the job is evident when describing a VIP Guide's role. "The most important job is to make the VIP's visit as normal as possible. Disneyland is the show – we don't want to detract from that. If we're with a celebrity and can get on the attraction and out of there with no one noticing, then we've done our job."
One of the most important aspects of the job is to keep the VIPs' identity a secret. Since many of his Guests attend the Park incognito and anonymity is part of the attraction, we ask Dean if he can drop any names. "The Most Reverend Desmond Tutu, Cindy Crawford, Kristi Yamaguchi," he fondly reveals, "and Art Linkletter, who hosted the opening of Disneyland in 1951, returned for the Park's 50th anniversary." Heads of state, government officials, corporate executives, royal families, and first-time foreign visitors are also frequent VIP Tour Guests.
But his most memorable tours are with families who return year after year and personally request him. Dean recalls one family in particular. "The child was three and now he's ten. It's so neat watching them grow up – you get to know them and they get to know you."
When asked if any one event stands out, Dean quickly answers, "I was chosen to be part of a small group of five VIP guides from the U.S. (from both Disneyland and
Walt Disney World
) that supported our task force team during the Grand Opening of Hong Kong Disneyland. I was so excited and honored to be selected – I couldn't believe it! It was such a privilege sharing Disney history, traditions, and training practices with our new team of Hong Kong Disneyland VIP guides. For most, it was their first exposure to a
Disney Theme Park
experience. We worked alongside each other hosting executives and Chinese celebrity entertainers. It was also a very surreal experience working in the Hong Kong Disneyland City Hall. It looked and felt like a familiar place since it was an exact replica of the original in Disneyland ... except that I was halfway around the world and our Guests and Cast Members were speaking Cantonese or Mandarin!"
Celebrities, gold medal-winning Olympians, politicians – it's all part of a magical day's work for Dean. "Our job is so unique," he says. "We create lasting impressions – it's more than 'Hello, how are you?' It's hard work. I meet so many wonderful people ... that's what keeps me here."