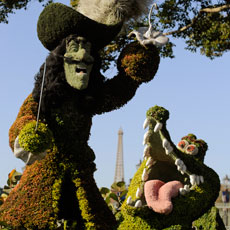 Spring is here at last, and there's no better way to stop and smell the roses (and the orchids, and the herbs, and the salvia ...) than a visit to the 2010 Epcot International Flower & Garden Festival – in progress now until May 16. This year the Festival is brimming over with treats old and new. Whether you're a devoted gardener yourself or just love to stroll among blooms and butterflies while leaving the spadework to the professionals, the Festival makes spring come alive with scent and color.
Want to know just how big a deal this Festival really is, and why it draws thousands of visitors every year? Check out a few amazing facts about this year's Festival:
The Festival boasts more than 75 Character topiaries representing 15 different Disney films – that's 65 tons of topiaries in all!


This year the Festival has the tallest Character topiary ever created, Goofy – a whopping 14 feet tall.

More than 500,000 plants, trees, and shrubs are planted for the Festival – including 60 different types of trees, 47 types of palms, and 48 types of bedding plants.

The Festival runs 75 days, making it the longest flower and garden festival in the United States.

198 hands-on demonstrations and seminars will be presented at the 2010 Festival.

Every artist or group performing at the Flower Power Concert Series has had hits in the Billboard top 10 list – and among them they have more than 250 weeks of number-one hits from the '60s, '70s, and '80s.

This year 600 native butterflies flutter in Bambi's Butterfly House – the most ever at the Festival.

The waters of Epcot will truly be in bloom with 120 floating gardens.

The Epcot International Flower & Garden Festival is the biggest and longest Disney event anywhere on the planet.


The Festival encompasses more than 300 acres and more than a mile and a half of stunning gardens.

24,000 man-hours go into the creation of the Festival, from initial brainstorming to painstakingly transplanting and maintaining every one of those plants.

You'll discover plants and gardens authentic to all 11 World Showcase countries, from Norway to Morocco.

More people have visited the Epcot International Flower & Garden Festival than live in the entire state of Texas!

This year's Festival includes an enchanting Fairy House inspired by the winning entry in the Disney Fairies Pixie Hollow "Design a Fairy House Contest," by 15-year-old Zoe P.

The Festival is a feast for the nose as well as the eyes with a scent garden sponsored by the legendary French perfume house Guerlain.

And here's one more fun fact – admission to the Festival, and to many of its demonstrations and workshops, is free with Epcot admission! It's just one more sweet spring surprise for Guests.