It's no wonder Disney provides an incomparable entertainment experience for families around the world – every aspect of the Company is run by employees committed to carrying out Walt Disney's unique vision. To honor that spirit, our Cast Member Series highlights the careers of those behind the famous Disney magic.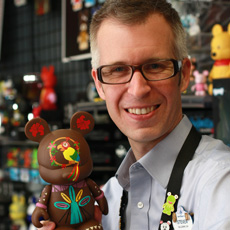 The Insider sat down with Steven Miller, project manager overseeing
Disney Pin Trading
and
Vinylmation
™, two popular items collected by Disney lovers young and old. A native of Columbus, Ohio, Steven's been fascinated with Disney since childhood and recalls his earliest memories.
"My favorite movie was '
The Aristocats
' ... I played the 33-1/2-RPM record over and over again on my
Mickey Mouse
record player. You had to remember everything associated with the movie or look at the books because that's all there was – we didn't have licensed toys, VHS, or DVDs. I also loved '
Hercules
' and '
The Black Hole
' [his introduction to sci-fi] but the one that's truly memorable is '
Tron
.' I watched that movie endlessly and pretended I was Flynn trying to break into the Master Control Program!"
Steven's first trip to
Walt Disney World
, at age seven, left an indelible impression. "Epcot had opened the year before. My favorite attraction was Journey into Imagination with Figment ... it totally captivated me." Figment's still leading Guests into his upside-down world, but that trip was only the beginning of bigger aspirations for Steven. "All through high school I read about Walt Disney ... everyone knew I was the Disney guy. In the summer of 1997, I applied for the college internship program and went to work at Walt Disney World in Orlando, Florida – at Pleasure Island merchandise – for three months until school started. I returned for the advanced internship in March 1998 and never went back."
Having studied political science and public relations at Ohio Northern University, Steven considered becoming a Disney attorney, but fell in love with working at Walt Disney World and the whole Guest experience during college. His early jobs included working behind the scenes at the casting center, teaching Disney traditions, merchandise training, and attraction manager. "I really enjoyed helping people join the Disney Family and guiding them through the process ... the rest is a whirlwind experience."
Whirlwind, indeed! With his infectious love for all things Disney, it's no surprise that Steven was selected to be a Disney Ambassador, a prestigious program started by Walt Disney in 1965. "After reading about ambassadors in
Dave Smith's 'Disney A to Z,'
I thought it would be the coolest job because they travel around and spread the Disney message. In many ways, they represent Walt's passion at various events or speak on behalf of the Cast Members and all the great things they do." During his ambassadorship, Steven attended parades, press events, conducted media interviews, learned how to run the Spaceship Earth attraction, and worked on community events throughout Central Florida – he even met
Marty Sklar
, the Disney Imagineering Legend instrumental in building Epcot.
"Our role of service as ambassadors stems from a rich heritage ... I was very blessed and honored to be selected for the 2001-2002 team," he says. "You meet so many wonderful Cast Members, hear great stories, and see change through the eyes of people who've worked for the Company many years. We've created a legacy for future generations, so 10 years ago we looked at the program to determine how to keep it relevant for the 21st century – from a diversity standpoint as well as community relations. Not many employees have this opportunity ... it's like a little club."
Since 2003, Steven's worked in Theme Park merchandise, specifically Disney Pins. "Business and politics go hand in hand, so my background's been tremendously helpful since there's a lot of connecting with Fans. Understanding public relations has come in handy with all the blogging, social media, and writing required ... being able to speak about the Company and write press releases shows you just never know what you'll end up doing."
Disney Parks blog
readers already know Steven – he's the voice they turn to for news on upcoming, special, or limited-editions pins and Vinylmation figures. "Pin trading and collecting is a highly visible and desired activity that many people enjoy – it's the same with Vinylmation. You meet and connect with individuals interested in these really great collectible items for an awesome Fan experience ... another key aspect of working at Disney."
"Each job's taught me something different. I've learned a lot from the leaders I've worked with ... the nice part is that they've all been supportive from the perspective that they want you to grow. I want to emulate them with Cast Members I lead because you want to see people succeed and insure they're set up for success in what they want to do."
That said, "The Aristocats" is still Steven's favorite animated film – and amazingly enough, his 33-1/2-RPM records (and companion storybooks) have survived the journey. He now shares them with his four-and-a-half-year-old son Athan. "It's nice being able to pass that on to him. I grew up with Disney ... it's always been a part of my life. There are even pictures of me in a Donald Duck tee shirt at six months old. Aren't the memories what Disney's all about?"
ºoº
ºo

º

Marcio Disney Family Sites Network
º
o
º

Disney's Dream Makers
Disney Picture of the Day
Vinylmation of the Day
Disney Tales [5 Weekly tales]
The Disney History
Marcio Disney Blog
Disney Pin of the Day
Marcio Disney Digital Media