UPDATE: OCTOBER 18, 2011
---
The Makaloa Garden was completely transformed into a stylish and elegant wedding venue complete with a draped floral wedding arch, dazzling chandeliers and chic furnishings. We even sprinkled in a little Disney magic with custom made Mickey-shaped pink pillows and flower petals forming the shape of Mickey's head carefully placed down the aisle. Mickey and Minnie themselves even joined in on the enchanting celebration sporting their Hawaiian wedding attire.
---
We thought it would be fun to meet this young couple, so we invited Jamin and Valerie to
Disneyland
park, where our own
Paul Hiffmeyer
took their engagement photo.
Some special guests also stopped by to wish the happy couple best wishes on their upcoming marriage.
As for setting the date, it's looking like May 11, 2012, is going to be the big day. Congratulations, Valerie and Jamin!
Wedding Bells Ring at Walt Disney World Resort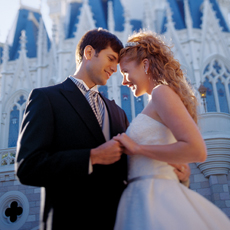 If your thoughts turn to love, romance, and all things "twitter-pated" in the spring, you're not alone – there's a reason that spring is the traditional season for wooing and wedding. And for couples who are ready to take that final step and embrace a happily-ever-after, there's no finer place than
Walt Disney World Resort
to say "I do."
We wanted to peek behind the bridal veil and see what goes into planning a Disney's Fairy Tale Wedding, so we sat down with Korri McFann. A 15-year veteran on the
Disney's Fairy Tale Weddings & Honeymoons
team, Korri gave us some helpful tips for making the most of a wedding and showed us what it takes to make the magic.
"I and many of my colleagues are all very passionate about the work we do in weddings," she explains. "I guess you can say we are one of the few who get to think about weddings 365 days of the year!"
That passion is put to work creating weddings that are as special as the couples they celebrate. And to make a wedding truly memorable, Korri urges the couple to take charge and decide what would make the day meaningful. "Being engaged is very overwhelming, but it is very important to share with our team what is most important to you. The more our team knows the better we can help to make your day perfect."
She recommends booking 16 months in advance to ensure couples can reserve the venue of their choice, and to allow plenty of time for relaxed planning with their Disney Wedding Planner. Specialists are assigned to help them arrange food, flowers, and complete event management. Korri reminds couples, "Our dedicated team of experts is here to make the planning process easy and, more importantly, fun. Disney's Fairy Tale Weddings truly is a 'one-stop-shop' for all your planning needs. Walt Disney World Resort offers floral, photo, video, transportation, culinary, and entertainment that work perfectly together so you don't have to!"
Once the planning is done and the big day arrives, she has one crucial tip, "My biggest advice for the wedding day is to let go ... allow us to take on the planning, so you can truly be a guest at your own wedding!"
The
Memories Collection
makes planning easy, with wedding plans designed with a Disney touch – just choose the option that strikes your fancy and let the magic unfold. But suppose you picture a wedding as unique as you are? For couples looking for a truly personalized experience, the Disney's Fairy Tale Weddings
Wishes Collection
is there to make their dreams come true. From an intimate gathering to a grand gala event, the team is there to tailor every detail. Says Korri, "My favorite part is helping a couple create an event that is their story. This can be as simple as a color scheme, an amazing menu that reflects their heritage, or special entertainment and special touches that reflect themselves as a couple. That is when you know you have helped to plan a great wedding!"
The centerpiece of a fairy-tale wedding is a fairy-tale gown – and it's hard to do better than a gown from an actual fairy tale! Brides looking for lovely couture can turn to the
Disney's Fairy Tale Weddings by Alfred Angelo collection
, inspired by the style and personality of seven iconic
Disney Princesses
: Ariel, Aurora, Belle, Cinderella, Jasmine, Snow White, and Tiana. The collection includes classic, grand ball gowns in layers of tulle and sparkle net, updated fit and flare styles to highlight curves and movement, and pleated and wrapped bodices to flatter the bride's figure.
Flowers and frills make a wedding lovely and highlight this once-in-a-lifetime moment. But the key to a real dream wedding might lie in something very simple. Korri says, "We have seen a lot of events over the years, but the best weddings are when couples relax and get to enjoy their event. It is about the couples joining as one family – I still tear up when I see a bride go down the aisle. I guess that is why I am still in this business!"
---
As anticipation builds for the British royal wedding on Friday, so does speculation about what Kate Middleton will wear when she weds Prince William. We have another princess getting ready to debut her wedding gown here at the
Disneyland Resort
, on June 3. That's when Ariel and Prince Eric will debut in The Little Mermaid ~ Ariel's Undersea Adventure, an attraction inspired by the classic animated film, including the film's wedding scene.
To find out more about Ariel's dress and Prince Eric's attire, I talked to the clothing designer, Gloria Bowls. She collaborated with Walt Disney Imagineer Larry Nikolai to create a look that reflects several periods of British history. Ariel's gown, similar to the dress in the film, was largely influenced by the royal wedding of Charles and Diana in 1981 ("The Little Mermaid" film debuted in 1989).
"What was amazing about Diana's dress was that no princess had arrived on the scene with such grandeur – larger than life," Gloria said. "Ariel's dress has some of that grandeur, a fantasy come to life – and larger than life. The big poof sleeves are almost as big as her head."
Here's a sneak peek at Ariel in her wedding finery.
Gloria designed custom wedding gowns and evening wear before taking on the challenge of designing costumes for Audio-Animatronics figures and consulting for Disney. She credits Larry Nikolai's vision for encouraging her to let this dress express Ariel's mermaid personality (i.e., she has this thing for "thingamabobs").
"Ariel's dress is made very much like a regular bride's dress in that the bodice is fully lined, interlined and extensively boned – it practically stands up on its own," Bowls said. "My favorite part is the front inset of the skirt … an underwater seascape with a shell, a starfish, a seahorse, all beaded and appliqued on, with seaweed lace.
"I hope each little girl will come off the ride inspired and dreaming of having a dress like Ariel's for her own wedding day."
These photos show Gloria as she was working on the dress, plus some of the intricate detail.
Complementing Ariel's dress is Prince Eric's attire, inspired by 19th century British royalty and British military uniforms. Details such as gold silk buttons reflect the aspects of courage, valor and honor.
Gloria was one of many experts who worked on this attraction. Would you like to hear from some of the Walt Disney Imagineers who created the Little Mermaid ~ Ariel's Undersea Adventure? Enter for a chance to
attend our meet-up
, scheduled for May 10 at 6:30 p.m.
What do you think of the magical detail in Ariel's royal wedding gown?
---
We recently had the honor of kicking off the Disney Social Media Moms Celebration where we held a surprise vow renewal ceremony for
Walt Disney World
couple, Kristen & Greg. I'm seeing more and more couples look for unique and interesting ways to make their grand entrance, so I wanted something fun and energetic to introduce our bride Kristen. I enlisted the help of some friends and Franck himself to make operation 'Rock the Pavilion' come to life.



ºoº ºoº ºoº ºoº ºoº ºoº ºoº ºoº ºoº ºoº ºoº ºoº ºoº ºoº ºoº ºoº
In 1991 Disney created the Disney's Fairy Tale Weddings services to couples at Disneyland, Walt Disney World and Cruise Lines.
In the beginning, only couples with a valid California or Florida marriage license could purchase its wedding packages but, since 2007 even gay couples can have a commitment ceremony and they added the Honeymoon service.
People propose at Disney Parks all the time, so… nothing is more natural than get married there too. I made 3 videos to show how those proposals happen and how Disney's Fairy Tale Weddings and Honeymoons can help your dream come true!
According to wedding industry experts, Walt Disney World Resort is Recognized as a top-ranked honeymoon destination and destination weddings venue.
The sky is the limit for themed weddings - from an enchanting Cinderella-like wedding in Magic Kingdom or a Hollywood extravaganza in Disney's Hollywood Studios to international-themed nuptials at Epcot or a safari-themed reception at Disney's Animal Kingdom.
More than 1,600 couples from every state in America and from international locations wish to tie the knot at Florida or California every year.
The most widely used location for weddings, vow renewals and commitment ceremonies, is the Disney's Wedding Pavilion on the shores of the Seven Seas Lagoon, inside the Grand Floridian Resort.
The first wedding at Disney's Wedding Pavilion was televised live June 18, 1995, on Lifetime Television as part of its "Weddings of a Lifetime" series.
The Imagineers designed it in a special way… you can see Cinderella's Castle behind the altar and through a arch outside the chapel.
"The pavilion gives couples an elegant indoor setting with the romance of Cinderella Castle visible in the distance," said George Aguel, vice president resort sales, planning and development, Walt Disney Attractions.
The Best Videos with Proposals, Engagements, Weddings and more at Disney Parks:
Part I
Part II
Part III
"Through the years, hundreds of couples have requested to get married in the theme parks," said Randy Garfield, executive vice president of sales and travel operations, Walt Disney Attractions. "We have expanded our offerings and designed a one-of-a-kind wedding program to fulfill those special requests." Weddings at Walt Disney World Resort's most famous venues are limited only by the imagination of the couples. Here are several possibilities:
The romance of the fairy tale is captured as a bride, dressed in a specially designed Cinderella gown, arrives in a horse-drawn carriage. A fairy tale major domocarries the wedding rings in a glass slipper, a trumpeter heralds the bride's entrance with favorite Disney fanfare and an elegant string quartet sets the scene. Couples exchange vows at the Rose Garden with Cinderella Castle as the backdrop for the ultimate fairy tale celebration in a place where dreams really do come true.
Couples can choose from several venues around World Showcase -- The American Adventure, United Kingdom, France or Italy -- for an international festival featuring specialized food and entertainment. At The Seas with Nemo and Friends, a 5.7-million-gallon tank featuring more than 200 varieties of sea life is the backdrop for couples.
Disney's Hollywood Studios
Screaming fans and autograph hounds set the scene. The bride arrives in a star motorcade down Hollywood Boulevard for an official handprint ceremony at the Chinese Theater. A reception follows in the Great Movie Ride attraction. The evening can end with "Sorcery in the Sky" fireworks featuring a personalized pyro show. Couples can even "take the plunge" -- literally and figuratively -- on The Twilight Zone™ Tower of Terror.
Weddings are exotic at Disney's Animal Kingdom theme park. Couples can take their guests on an adventure into the wild with a safari-themed reception. Imagine African music, food and décor to inspire a beautiful African celebration.