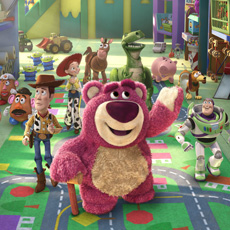 Many parents fear empty nest syndrome, but what happens to those destined to "empty toy box syndrome"? When Disney·Pixar's "
Toy Story 3
" premieres June 18, Woody, Buzz, and the gang face that fateful prospect as Andy prepares for college – and the reality of losing their child to adulthood is just too much for their near mint-condition hearts to bear. Lee Unkrich ("Toy Story 2," "Monsters, Inc.," "Finding Nemo") talks with the Insider about toys, inspiration, and directing the latest of the talking toy trilogy.
"We made another 'Toy Story' because we really loved the characters and their world ... no one wanted to let them go. Many years had passed since the second film, so we thought a new story idea was needed, something other than what we originally imagined 'Toy Story 3' would be." Lee felt this film should be a continuation of the first two – almost like all three told one big story. "As a result, it was much more poignant than if we had gone with some other random adventure."
Yes, Andy's on the verge of leaving home and his childhood toys agonize over what will become of them, but their ensuing excursion to Sunnyside Daycare is hilarious, action-packed, and touching. Lee explains that one of the new characters, Lotso Huggin' Bear, was actually conceived back when John Lasseter, Andrew Stanton, and Pete Docter were brainstorming for Pixar's first feature.
"Lotso was an idea way before 'Toy Story' even existed. John, Pete, and Andrew envisioned a big, toy store-like city, where he led a gang of bargain-bin toys that raided different neighborhoods at night. Nothing came of it, but once we decided the toys would end up at a daycare, we immediately thought of bringing Lotso back ... he's very 'grandfatherly.'"
Besides Lotso, fans will be introduced to many new faces – Ken, Stretch, Chatter Telephone, and Big Baby, to name a few. When asked for one-word personality descriptions, Lee happily obliged. "Ken – shallow, Big Baby – innocent, Mr. Pricklepants – pompous. Giving pre-existing toys [like Ken and the Chatter Telephone] a personality adds lots of responsibility." He points out that audiences will then always connect them to their "on-screen personas."
"Barbie was such a big hit that we knew Ken would be fun. In determining his personality, we wondered what it felt like to be a guy who's a girl's toy. He's really just an accessory to Barbie – no more important than shoes or a purse. Smug yet insecure fit perfectly. Knowing the comic potential, Michael Keaton [Chick Hicks in 'Cars'] topped our list ... we suspected he'd be hilarious, but Michael actually made Ken much funnier than we ever imagined."
How were the types of toys selected for the film? "One of the great things in the 'Toy Story' universe is mixing toys we've invented with those that we nostalgically remember from our own childhoods. Sometimes we take elements of our toys and utilize them to create new ones."
Sometimes nothing beats real life for inspiration – and Lee drew on his own memories to enhance the story. "There's a scene where the toys accidentally get thrown away in a garbage bag, which actually happened when my wife and I were first married and moved to a new apartment. She had packed all her stuffed animals in a garbage bag, while I diligently cleaned the apartment. You know where this is going, right? She's never let me forget it. I like to think that by putting that idea in 'Toy Story 3,' I've at least immortalized her toys and their untimely demise at the landfill wasn't in vain."
Lee admits the animators' research wasn't as exciting as in previous films – eating at four-star Parisian restaurants for "Ratatouille" or traveling to Venezuela for "Up." "We visited landfills and daycares for inspiration. Every daycare had dirty, unclothed baby dolls ... many broken or covered in pen marks. Funny thing is that they tower over all the other toys, which led us to the character of Big Baby." Fisher-Price's Chatter Telephone, another perennial classic, also showed up in daycares everywhere, making it another obvious choice.
Unglamorous as the settings may be, "Toy Story 3" still pushes the creative envelope. "Over the past 15 years, each film has surpassed the previous, both in technology and artistry. 'Ratatouille,' 'Wall·E,' and 'Up' are just gorgeous. My challenge with 'Toy Story 3' was taking advantage of our amazing artists while remaining true to the 'Toy Story' aesthetic." Lee worked with the production designer from the first two films to adhere to the same stylized, slightly caricatured look, while incorporating the Studio's more sophisticated texturing and lighting techniques.
Leading such a talented team of artists proved to be eye-opening for Lee. "This is the first film I directed solo, which forced me to step out of my comfort zone quite a bit, especially since it was a 'Toy Story' sequel. Directors often have lots of great ideas thrown at them from different people. Part of my job was to sort through and distill them into concepts that worked best for the story we wanted to tell. My favorite thing was pushing myself through the challenges ... difficult situations are always the most rewarding. Looking back, this was an amazing experience."
"I want audiences to be entertained and feel it's worthy of sitting alongside the first two 'Toy Story' films. Hopefully they'll also look at their own lives a bit – I think that's the hallmark of a good story. We've explored mortality and the idea of change, hitting different phases of life and coping with it. The characters, both toy and human, go through a lot and find the most important thing for them is family. I hope people can relate to that idea."