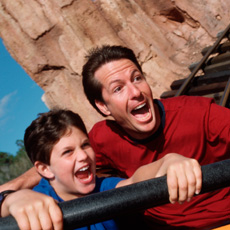 What's Father's Day really all about? Is it mostly a chance for millions of tacky ties to change hands? An excuse to break out the barbecue (as if one was needed!)? A holiday to fill in that gap between Memorial Day and the fabulous Fourth?
We like to think that Father's Day is something a little more special – a chance to celebrate the great family bond between dads and their kids. The guy who gets down on the floor and races toy cars, lets his darling daughter plaster him with makeup, gives the best horsey rides in town, and always knows how to make sense of homework deserves a day that's really memorable.
There's nothing wrong with ties and barbecue. We love 'em both! But this year, why not celebrate what makes Dad a dad – his special time with his family? We have a handful of suggestions that Dad will love, and so will the kids and Mom.
Playtime with Pop
Finding a new activity that Dad and the kids (and maybe Mom as well) can enjoy is a real treat. For starters, why not try logging on to
Disney Toontown Online
for a free trial and finding a new way to play? The family that tosses pies together can have a whole barrel of fun. Dads with older kids might get a swashbuckling kick out of
Disney Pirates of the Caribbean Online
as well. Both of these games are "massively multiplayer" – that means that the whole family can meet at once in a virtual world and collaborate with (or compete against!) each other.
Another possibility is getting outside for some old-fashioned playtime.
Family Fun
has tons of suggestions for games and sports the whole family will enjoy.
DIY (Do It Yourself ... for Dad!)
DisneyFamily.com rides to the rescue! Everything you need to help the kids whip up a handmade Father's Day is right there in their special
Father's Day Craft Collection
. From cards to photo frames, desktop keepsakes to key chains, nothing will mean as much to a father as a present made by his own children – and making something special for Dad will be a real labor of love for kids.
Road Trip!
For a lavish Father's Day celebration – and one he will always remember – the Disney Parks are unbeatable. Although a trip to Disneyland or Walt Disney World Resort is always fun, there are certain attractions that are packed with extra dad appeal.
If the pop in your family is a thrill-seeker, hit the fast and furious attractions. In California, the Maliboomer, Grizzly River Run, and California Screamin' are just the E-Ticket! In Orlando, tackle Expedition Everest and the Rock 'n' Roller Coaster. In both Resorts, you can't go wrong with any attraction that includes "Mountain" in its title, from the Matterhorn Bobsleds to Splash Mountain, or with the spectacularly spooky Twilight Zone Tower of Terror.
Fathers and kids have been delighted by the Autopia attraction for generations, so let Dad and his offspring hit the road in these drive-yourself roadsters.
Sports-loving families will find plenty to cheer about at the ESPN Zone in Downtown Disney at Disneyland. At Walt Disney World, don't miss Disney's Wide World of Sports – there are also world-class golf facilities to try.
From the simplest homemade card to the most lavish vacation getaway, there are a million ways to make Dad feel like a king this Father's Day. Nothing beats letting him know how special he is to the whole family – we hope that your day, and his, is truly magical!