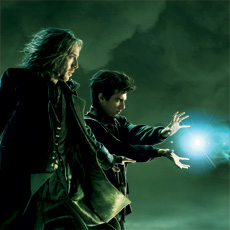 Produced by Jerry Bruckheimer and directed by Jon Turteltaub (the team behind the "National Treasure" movies), Disney's live-action film "
The Sorcerer's Apprentice
" sweeps into theaters July 14 with all the explosive visual effects, car chases, and big-screen brouhaha Bruckheimer's famous for ... not to mention a contemporary twist on spell casting that would make Mickey proud.
The action-packed comic fantasy-adventure introduces Nicolas Cage as Balthazar Blake, a 1,000-year-old master sorcerer determined to defend mankind (and the lower East Side) from the impending chaos wreaked by arch-nemesis Maxim Horvath (Alfred Molina). Their centuries-old rivalry lands the sorcerers (both previously mentored by Merlin himself) in modern-day Manhattan for a good versus evil battle that draws physics nerd Dave Stutler (Jay Baruchel) into the hex-happy mix. Unaware of his own mystical powers, Dave reluctantly joins forces with Balthazar, who proceeds to school him with a crash course in magic. Together they take on Maxim's wrath ... and a few of the fiercest foes that ever escaped from an ancient urn.
One of the biggest challenges was breathing new life into the dancing broom sequence from "Fantasia," 69 years after its initial release. Bruckheimer, who loved the concept of sorcery running amok in the Big Apple, credits the director for making it work on-screen. "It was difficult because the original was so inventive, but Jon's a good storyteller with a great sense of humor ... he figured out a way to make it fresh and interesting for audiences using new technology, CGI effects, and music. We're very happy with the result – he did an amazing job."

"You need a good idea at the core, which is why 'The Sorcerer's Apprentice' works – it's based on something that's classical. We literally built a whole movie around one sequence thanks to a fabulous director, great writers, and actors who fulfilled everyone's vision of what we dreamed of while developing the project."

Stellar casting brought that vision, as well as the film's quirky characters, to life. How did Cage infuse Balthazar with eccentricity and magic? According to director Jon Turteltaub, "Nic's an imposing, intense, powerful presence ... there's something very strong and masculine about him. It was really important that this sorcerer be an intimidating figure. We always feel safe around the dangerous person who's on your side more than the nice person. Nic has an edge without losing his sensitivity, heart, and goodness. Most actors draw on elements within themselves that feel right for the character, then pick moments where they can make it their own – and Nic really knows how to do that."

Computer-generated special effects were interspersed with live mechanical and physical stunts to create some pretty amazing scenes: Balthazar and Maxim's blastastic duels, a parallel-dimension car chase through Times Square, the confetti-strewn Chinatown celebration, and the sorcerers' final blowout in lower Manhattan's Bowling Green Park. Hundreds of artists were led by an Academy Award®-winning visual and special effects team to create a more magical city than most native New Yorkers could ever imagine. The only real obstacles encountered by film crews were high-volume city traffic (pedestrian and vehicular) and 38 straight days of rain.

Set dressers faced another type of problem altogether – finding enough unique, mystical-looking items to fill Arcana Cabana, Balthazar's downtown curio shop. Though filmmakers spent a lot of time looking at potential locations in Greenwich Village, they eventually built the shop's set from scratch because, as Turteltaub puts it, "Most stores didn't want to be set on fire."

With trickery that includes Chinese street dragons-turned-real, telekinetic flying objects, and fire bolts powered by pyrokinesis, the filmmakers and actors all agree that their ultimate goal was simple – to entertain audiences. Nic's quick to add, "I just want to make good films and tried to channel the spirit of Walt Disney and 'Fantasia' ... I think he [Walt] would have been happy with this."

Experience the all-new world of "The Sorcerer's Apprentice" July 14, when ancient spells, dragon rings, and dancing brooms will whisk you away with classic Disney magic!