July 20, 2010
Shannon, 26, Philadelphia, PA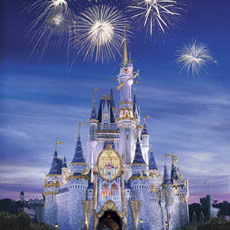 In 2005, we traveled to
Disney World
and had a wonderful vacation. My husband's job is very stressful and Disney World is the only place I've ever seen him relax. It's like pure magic! We always plan our vacations in August before the kids start school for an end-of-summer celebration.
As you can imagine, August in Florida is extremely hot and our son Ian was only two. Because of the heat, we had a very cranky toddler on our hands by the time we finally arrived at the Toy Story photo shoot. Ian and his five-year-old sister Katie absolutely love Toy Story – Jessie is Katie's favorite and Ian adores Buzz Lightyear. In fact, his nickname has always been Buzz.
We waited in the long lines and he was beside himself crying. Buzz Lightyear came over unexpectedly, knelt down, and extended his arms to Ian. Our "Buzz" leapt down and ran straight to his hero. The smile on his face truly lasted from Infinity to Beyond. He doesn't remember much about that vacation except that one magical moment.